o
A Tour of Seaside, Florida
New Urbanism In A Beachside Village
When J. S. Smolian, an Alabama store owner purchased eight acres of beachfront at Seagrove Beach off US98 in 1946, he had no idea his grandson Robert Davis would take his memories of visiting the site and resurrect them into a utopian seaside village whose New Urbanism architecture would be a focal point of a movie trapped in a glass world.
Davis's idea for a unified village of some 200 wood frame cottages developed into an eighty acre reality in 1980. He hardly did it alone for he recruited London urban designer Leon Krier who had advocated creating small villages where people could walk to work, stores, and social activities. Then Davis hired Miami architects Andres Duany and Elizabeth Plater-Syberk to find a Southern vernacular design that fit Davis' location and goals.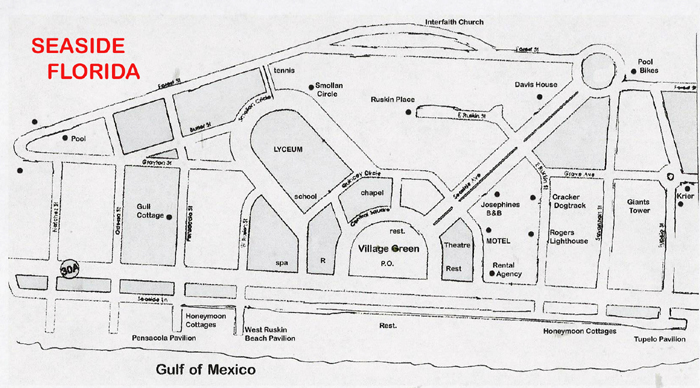 The location in Florida's Panhandle means that Seaside would be unlikely to attract industry. In fact, most residents need to drive down the highway for most of their shopping, despite the quaint downtown surrounding the VILLAGE GREEN, site of the Post Office just off FL30A. Seaside fills up in winter with Northern renters and in summer with Southern beach-goers so that the small all-year population truly does know each other.
Davis warned his critics that Seaside was "an idealized vision of a town" and that it was going to remain "a holiday town." Still, you might think you are in the movie The Truman Show when you see that despite amazing architecture the white fences and common lettering system gives the village a artificial and conforming feel.
TOURING SEASIDE</b> can be done on foot since the original village contains just eighty compressed acres, but if you want to drive most of the residential streets using the map, it is best to park at the Village Green or the COTTAGE RENTAL AGENCY and visit the interesting shops, the Playhouse, the Great Southern Café (good food), and the Seaside Chapel.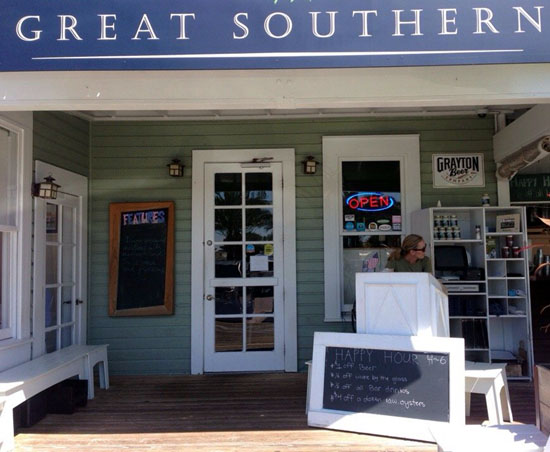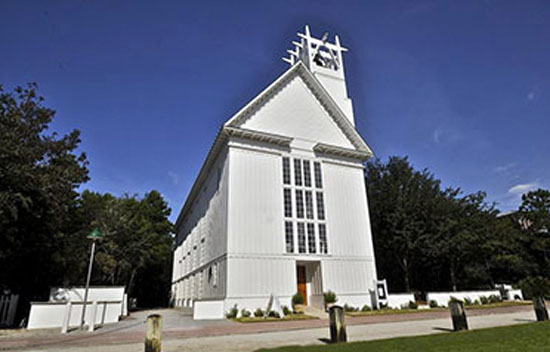 The Great Southern Café Is Popular *** The Seaside Chapel
Most people will next want to walk over to the beach pavilions, one of the most photographed features of Seaside and in keeping with protecting the sand dunes and sea grapes. Each of these walkways are delightful - the wave shaped Natchez Street Pavilion, the stick shack Odessa Street Pavilion, the latticework East Ruskin Street Pavilion, and the key Tupelo Street Pavilion.
TUPELO STREET was the first Seaside street and it features some of the most notable cottages, including the GIANT'S ROOST AND TOWER at 109 Tupelo, where renters can get a bird's eye-view of all the village, and the one-story per floor LEON FRIER COTTAGE, at 115 Rupelo. Frier came from London so maybe he wanted a townhouse. Notice all the narrow footpaths that connect each street. Walkers can get around faster than people in automobiles.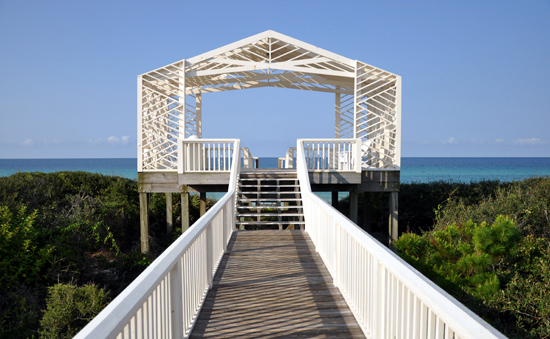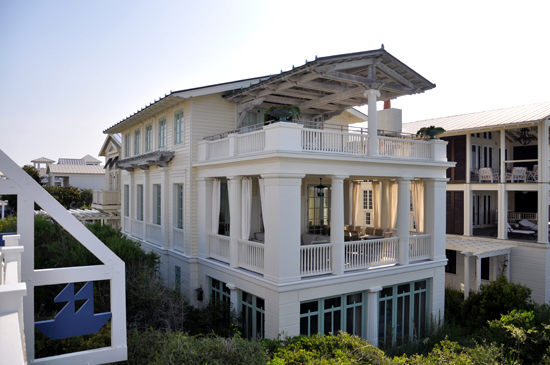 Odessa Pavlion by Roger Ferri *** The Nesbitt Cottage
Another interesting street is RUSKIN STREET with the wildly skeletal ROGER'S LIGHTHOUSE located at 110 Ruskin, the work of Victoria Casasco. Three doors down is Walther Chatham's futuristic Cracker dogtrot style cottage with two peaked roofs. SEASIDE AVENUE is the village's widest esplanade with many two-story houses that serve as large family rentals. At 204 Seaside is the large two-story clapboard double porch vernacular with widow's walk built by founder Robert Davis
For people who are looking for "motion picture shots" you will notice that the town grocery was used as a meeting spot in the film and Truman's home is located at 31 Natchez Street.
The Truman House at Seaside